Co-Sleeping + Bedside Sleepers
Why Co-Sleep
An Ancient Practice Still Common in Many Countries
Co-Sleeping is an ancient practice. Sharing the parent's bed with an infant was the norm in all societies prior to the 1700s according to a 1995 study published by the Official Journal of the Royal College of Midwives.
In many countries and cultures, co-sleeping is still widely practiced, where the benefit for both babies and mothers can still be seen today. Medical and scientific evidence suggests that co-sleeping (sleeping in close quarters with baby and parent) has many benefits that the Western practice of leaving infants alone in a room of their own does not.
A Happier Baby
Babies who co-sleep are often  reported to seem happier than babies who don't
Babies who co-sleep are often reported to seem happier than babies who don't. Lactation consultants, doulas, midwives, and safe sleep professionals recommend the babybay bedside sleeper  or safe co-sleeping practices. The eco-friendly, non toxic baby crib allows parents and their newborn to sleep side by side at night, but in separate spaces. This is safe co-sleeping at its best.
Reduces
Separation
Anxiety
Increases
Maternal
Bonding
Supports
Restful
Sleeping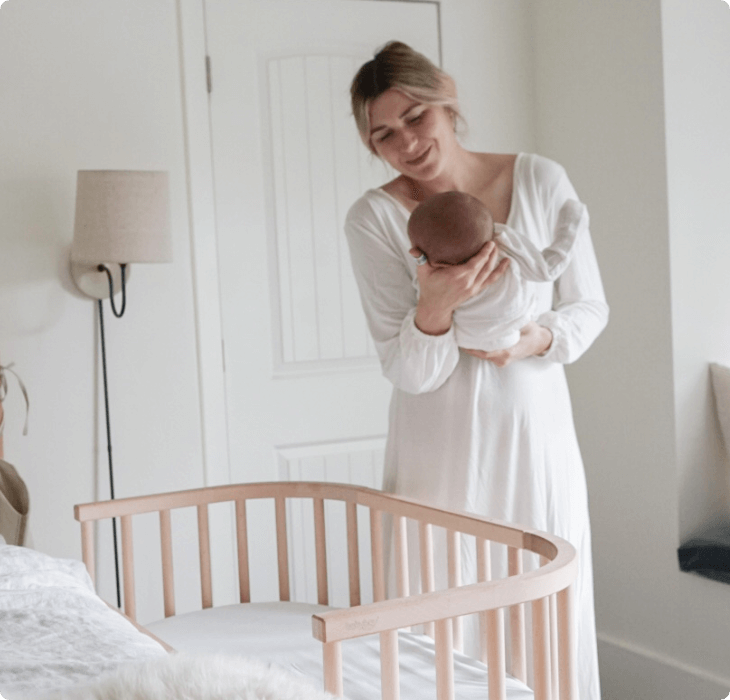 Breastfeeding Benefits
Safe Co-Sleeping Makes It Easier For Mothers To Breastfeed For Longer And More Often
Reduces the risk of breast cancer for the mother
Boosts baby's immune system
Enhances baby's brain development
Sooths and calms both baby and mom
Babies get more physical affection
Parents often get more sleep
Recommended by lactation consultants
Safe Co-Sleeping
Co-Sleeping Can Be Perfectly Safe If Done Right
Though there are dangers associated with certain types of co-sleeping, not all co-sleeping was created equally. Bed-sharing and couch-sharing have proven to be dangerous for babies, occasionally leading to SIDS.
Safe co-sleeping, or room-sharing, ensures that the infant is close to his or her parents, but not directly in bed with them, where overheating or suffocation from sheets being pulled up too high may occur. A bedside sleeper allows for safe co-sleeping to take place, giving baby his or her own crib space, while snuggled up right next to the parent's bed.
Safety Tips
Providing Safety, Quality,
And Peace Of Mind
There are two safe ways to co-sleep in the same room. One is by using a co-sleeper or bedside sleeper that is essentially a baby crib that attaches to the parents bed snugly and securely. The second way is to put the baby's crib in the same room. This doesn't offer all the benefits of co-sleeping, but still allows the newborn to synch up to his or her parent's rhythms and reduces stress.
When practicing safe co-sleeping there are some techniques you should know:
Your baby should always be placed on his or her back to sleep.
The crib mattress must be firm; soft sleeping surfaces can lead to suffocation.
The sheets should fit snugly and securely around the mattress, and the mattress should fit snugly and securely in the crib, ensuring no gaps.
Never place stuffed animals, toys, or loose blankets in the crib, as these can lead to suffocation. Use a baby swaddle or sleep sack instead of a blanket in the first few months.
BabyBay Bedside Sleepers
All-Natural, Eco-Friendly, Non-Toxic Bedside Sleepers
babybay offers a line of all-natural, sustainably sourced, eco-friendly bedside sleepers to promote a healthy sleep environment for your newborn. Unlike other co-sleepers on the market, babybay uses no plastics or harmful glues. All our finishes are low to zero VOC and certified non-toxic.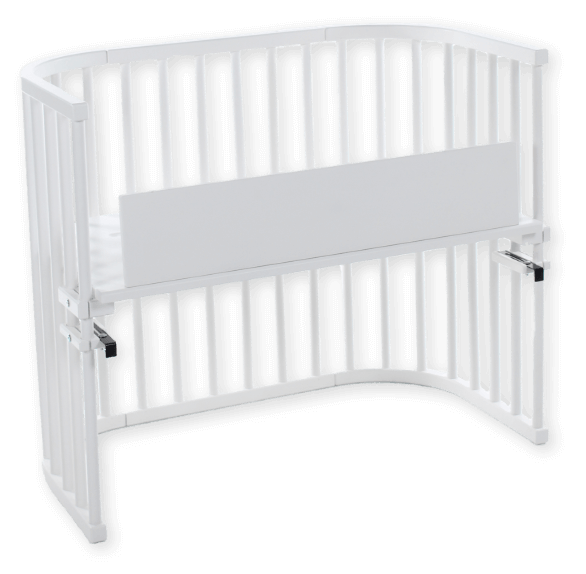 Advantages to babybay:
Fits snugly and securely to the parent's bed at any height
Assembles in less than 15 minutes
Can be used as a stand alone crib
Customizeable colors, mattress firmness, and accessories
Easily rolls from room to room with lockable rolling casters
Co-Sleepers Compared
The Best Bassinets For Newborns To Sleep
By Your Side—Safely
There are a few co-sleepers on the market. But which one's rank best for newborns to sleep safely by your side? Here's a comparison chart so you can determine which bedside sleeper is best for you and your newborn based on the qualities you want in a bedside sleeper.
We review the Halo Bassinet swivel sleeper, Arm's Reach co-sleeper, and the babybay bedside sleeper so you can see side-by-side comparisons of the features, assembly time, and usability of each product. That way, you can find the bedside sleeper that meets you and your newborn's safe sleep needs!
Features / Specs
babybay® Bedside Sleeper
Halo Bassinet Swivel Sleeper
Arms Reach Co-sleeper
Space for underneath storage
YES
NO
YES
Oeko Tex-100 Class 1 certification
YES
NO
NO
Dimensions
Original: 31" x 34.5" x 18"
Maxi: 31" x 37" x 21"
Maxi Tall: 37" x 37" x 21"
32" x 32" x 36"
34" x 20" x 31"
Product Weight
28 - 32lb
30 lb max
29 lb max
Max. Weight
90 lbs
30 lbs
Not listed
Age
5 months
5 months
5 months
Material
Solid beechwood
Steel, aluminum, plastic, polyester
White powder coated hollow
steel tubing, nylon, plastic
Modes
Bedside Sleeper, Bassinet
Bassinet
Bedside Sleeper, Bassinet
Mobility
Mobile (optional)
Not mobile
Mobile (wheels)
Made In
Germany
China
China
Safety Ratings
ASTM, JPMA, CPSC, FSC, TUV/GS,
Oeko Tex-100 Class 1
ASTM, CPSC
ASTM, CPSC